Wildlife Ecology and Conservation department
Wildlife Ecology and Conservation department

Southern Cone Conservation Leadership Initiative
The Southern Cone Conservation Leadership Initiative (SCCL) is an interdisciplinary iniative of UF's Tropical Conservation and Development Program (TCD) that promotes development of future conservation leaders in southern South America and advances biodiversity conservation, management of parks and reserves, and sustainable resource use in this region.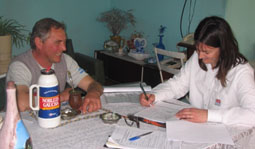 The Southern Cone of South America, comprised of Argentina, Chile, Paraguay, and Uruguay, has a spectacular diversity of landscapes and fish and wildlife resources, many of which are severely threaten by human activities. At the same time, the economic base of Southern Cone countries depends on natural resources – productive grazing lands, water and soils for agriculture, national parks, and abundant fisheries resources. The conservation challenges facing the Southern Cone are greatly exacerbated by a shortage of trained conservationists to address these complex and rapidly growing challenges.
SCCL links with partner organizations in the Southern Cone to train graduate students and conservation professionals, build conservation programs in universities in the Southern Cone, and conduct integrated training and research that serves as a platform for informed policy and management for biodiversity, wildlands, and sustainable resource use.
SCCL News
SCCL alumnus, Alejandro Pietrek, has recently initiated research on the effects of climate change on birds of the high Andean lakes of northern Argentina.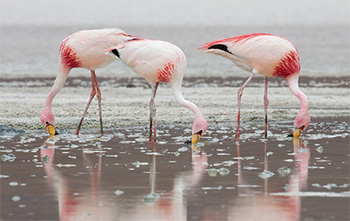 Puna flamingo (Photo from Wiki commons)
These high Andean lakes are critical habitat for species such as the puna flamingo (Phoenicoparrus jamesi), the horned coot (Fulica cornuta), and the giant coot (Fulica gigantea).
Graduate student Clara Mosso awarded a National Geographic Explore's Grant for master's research in Tierra del Fuego, Argentina.
With this grant, Clara will travel to Ushuaia in Tierra del Fuego to study effects of urban expansion on provision of ecosystem services in Patagonian forest and to assess perceptions of planners and technicians involved in implementation of the National Forestry Law of Argentina, which aims to conserve native forests. She expects to contribute to improvement of native forest conservation and land use planning policies in this region, including both ecosystem and human dimensions. Read more about Clara and her project on the National Geographic Explorer's website.
UF Southern Cone alumnus Tania Villaseñor awarded the prestigious L'Oreal for Women in Science Fellowship.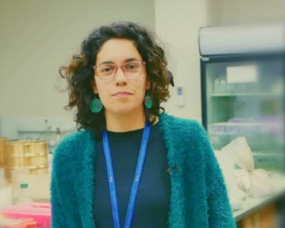 Tania is a postdoctoral researcher in the Department of Geology of the University of Chile in Santiago, Chile, where she studies the influence of glacial cycles on transfer of sediments from the Andes to the Pacific Ocean. This work supports global efforts to understand the response of glaciers and terrestrial and marine ecosystems to climate change.
UF Alumni Mauricio Nuñez-Regueiro and Alejandro Pietrek obtain research positions with the National Scientific and Research Council (CONICET) of Argentina.
| | |
| --- | --- |
| Mauricio | Alejandro |
Mauricio and Alejandro have been awarded career research positions in the Instituto de Bio y Geociencias (Institute of Bio and Geosciences, IBIGEO), National Scientific and Technical Research Council (CONICET), National University of Salta, Argentina. Mauricio's research aims to develop models for sustainable land use and biodiversity conservation the Chaco region of northern Argentina. As a result of agricultural expansion, this region has one of the highest deforestation rates in the world. Alejandro is studying the impacts of climate change on bird populations in the high Andes of Argentina. Many of these species nest in Andean lakes that are threatened by climate change and anthropogenic factors such as mining. Before joining CONICET, Alejandro conducted research on problems related to North American beavers introduced to forests and wetlands in Tierra del Fuego Argentina (See link for more information: https://phys.org/news/2015-12-good-invasive-beavers-patagonia.html)
Older News
SCCL alumni participate in the 12th Gender Summit
SCCL alumnus brings ecotoxicology to the forefront of wildlife conservation in the Southern Cone
Southern cone students and alumni lead workshops for women in environmental sciences and sustainability in Ecuador and Argentina
Addressing the gap between science and conservation practice in the Southern Cone