Students and Post-docs
Current Graduate Students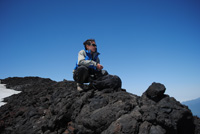 Antonieta Eguren Ibacache
Master's of Sustainable Development Practice, UF; Bachelor's in Veterinary Medicine from the University of Chile, Chile.
Antonieta is interested in the link between biodiversity conservation and human development, particularly in the context of local communities. She started her career studying spatial ecology of an endangered felid in the south of Chile. Thereafter, she has served as field assistant, project coordinator and investigator in several projects with private and public entities in Chile, studying endangered species (mostly carnivores). She became interested in the human dimensions of conservation after participating in collection of data about the conflict between rural communities and wild carnivores in the south of Chile. This experience led to an interest in the applied conservation and, as a result, she enrolled in the Master of Sustainable Development Practice program at University of Florida. She developed her practicum experience for this program in South Africa. She conducted participatory research in three communities, evaluating their livelihood strategies in relation to a community-based natural resources management project. Upon her return to Chile, Antonieta plans to apply the knowledge and experiences she gained in the southern cone of Africa to another southern cone, this time in southern South America. There she hopes to address development issues through conservation initiatives.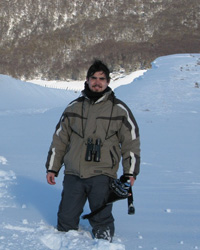 Claudio A. Moraga
Ph.D. student, School of Natural Resources and Environment, UF; Bachelor's in Veterinary Medicine from the Universidad de Concepción, Chile.
Claudio's research integrates social and ecological dimensions in wildlife research as a basis for effective biodiversity conservation. His early experiences in basic ecological research in agricultural and silvicultural settings, as well as his conservation and ecological work for the Wildlife Conservation Society-Chile Program in Tierra del Fuego, inspired him to look for an integrative way of filling the gap between theoretical conservation science and its practice in the field. He currently is enrolled in the Interdisciplinary Ecology PhD program at UF supported by a BecasChile scholarship for international doctoral studies from CONICYT. For his doctoral research, he intends to extend his previous research by evaluating conflicts between local economic activities (sheep farming) and guanaco (Lama guanicoe) conservation in Tierra del Fuego. He will explore how different stakeholders perceive the guanaco and ecological factors that influence the potential conflict between the guanaco population and economic exploitation of rangelands and forests. His problem-driven research aims to promote wildlife conservation within the production landscapes of Tierra del Fuego.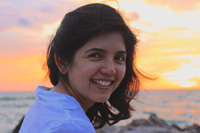 Cristina Nuñez Godoy
Master's student, School of Natural Resources and Environment, UF; Bachelor's in Business Administration from the National University of Salta, Argentina.
Cristina is interested in conducting research that integrates biodiversity conservation and economic development. Her previous work has explored the sustainable commercialization of Brazil nuts in the Brazilian Amazon and, more generally, the development of markets for non-timber products. For her Master's research, she hopes to explore how economic tools can be used to reduce deforestation in the Chaco forests of Argentina, one of South America's most threatened ecosystems. Her work will explore how different types of economic incentives might persuade landowners to maintain forest on their lands, rather than convert lands to soy or other alternatives.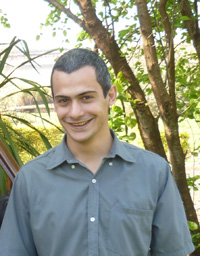 Dario Britez
Master's student, School of Forest Resources and Conservation, UF; Bachelor's in Forest Engineering from the National University of Misiones, Argentina.
Dario is interested in conservation and restoration of subtropical native rainforest of the Misiones Province of Argentina. This region is part of the Interior Atlantic Forest, an eco-region classified as a biodiversity hotspot by Conservation International. At present, this region is characterized by traditional land-use practices, namely slash-and-burn agriculture, and large monoculture plantations of exotic species. In the context of these unsustainable practices, Dario intends to not only foster the creation of protected conservation areas, but also to promote high-quality native timber production in a sustainable and environmentally-friendly way.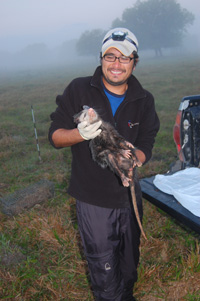 Felipe Hernandez Muñoz
Ph.D. student, School of Natural Resources and Environment, UF; Bachelor's in Veterinary Medicine and DVM at Universidad de Chile, Chile; Master's in Natural Resources at Pontificia Universidad Católica de Chile, Chile.
Felipe is interested in the field of wildlife disease ecology, particularly effects of anthropogenic pressures on dynamics of pathogens in wild populations of large mammals. His past work focused on the influence of fragmented habitats on behavior and occupancy patterns of the vulnerable guiña (Leopardus guigna), an endemic cat of the South American temperate rainforest. Simultaneously, he participated in environmental education projects involving rural communities in Southern Chile. Felipe also contributed to projects in this region focusing on the ecology, impact, and management of invasive species (feral swine, Sus scrofa; American mink, Neovison vison), and the ecology and conservation of critically endangered species (e.g., Darwin's fox, Lycalopex fulvipes). For his dissertation work, Felipe is studying the prevalence and spatial and molecular patterns of the pseudorabies infection in feral swine populations in south-central Florida. He is interested in the potential for transmission of this infection to native wildlife and livestock, and in applying lessons learned in this project to similar problems in Chile. During his graduate studies at UF, Felipe has supplemented his knowledge of wildlife ecology, conservation and management with learning new methods to answer questions in landscape genetics and molecular epidemiology. In the future, he expects to contribute to and participate in collaborative conservation networks with colleagues in Chile and the rest of the Southern Cone.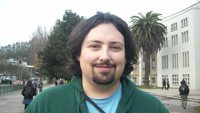 Felipe Infante Cespedes
Ph.D. student, Department of Anthropology, UF; Master's in Cultural Anthropology from the University of Florida; Bachelor's in Anthropology from the Universidad de Concepcion, Chile.
Although his background is in the social sciences, Felipe always has been interested in the environmental dimensions of socio-economic issues, especially those affecting rural communities. He has used both traditional anthropological methods, such as participant observation and interviews, as well as social network analysis in order to understand the relationship between socio-cultural variables and climate change impacts in the Mediterranean region of South Central Chile. Felipe also is interested in the political and economic implications of the historical ecology of the region, and how historical events are impacting small communities in the present day. For his Ph.D. research, he will be exploring the social dynamics behind the management of depleted natural resources in the region, especially soil and water, as a result of climate change.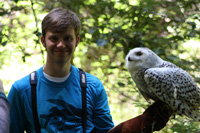 Harrison Jones
Master's student, Department of Wildlife Ecology and Conservation, UF. Bachelor's in Biology and French literature from Haverford College.
After receiving a liberal arts education at Haverford College, Harrison decided to pursue his interest in avian ecology by spending the next couple of years working as a field research assistant on avian projects in Peru, Puerto Rico, and California. He obtained extensive experience with behavioral techniques and worked for projects informing the management of species of conservation concern on public lands (Henslow's Sparrow, Ammodramus henslowii; Marbled Murrelet, Brachyramphus marmoratus). He is currently interested in the behavioral ecology of birds and the application of behavior to conservation science (conservation behavior). Specifically, he is focused on interspecific social behaviors (mixed species flocking, mobbing, heterospecific attraction) and communication networks in avian communities. His current Masters research is examining how life history traits (foraging behavior and sociality) affect reliance on information from other species in the communication network. He hopes to continue his studies of avian social interactions in temperate Chile or Argentina for his dissertation, examining the ability of mixed-species flocks to act as indicators of ecosystem health in Magellanic forests.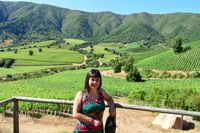 Marcela Marquez Garcia
PhD candidate, School of Natural Resources and Environment, UF; Bachelor's in Environmental Sciences & Master's in Ecology and Evolutionary Biology from the University of Chile, Chile.
Marcela is interested in the human dimensions of biodiversity conservation, an undeveloped field in her home country. Her prior research experience includes projects on ecology and conservation, and participatory approaches to communicate local environmental issues in Chile. She has also worked to implement sustainable development programs in Chile, organizing and facilitating participatory projects with local communities and interacting with different audiences through outreach and environmental education projects. As the General Coordinator of the Outreach and Science Education Program of the Institute of Ecology and Biodiversity (IEB-Chile), she coordinated outreach activities in a variety of regions of Chile and developed educational materials about ecology and Chilean biodiversity that that are widely used. During her graduate studies at UF, Marcela has strengthened her knowledge and skills in social science research and its application to conservation practice. Her dissertation investigates individual and institutional factors that promote adoption of conservation practices among winegrowers in Chile, and evaluates impacts of an emerging initiative, the Wine, Climate Change, and Biodiversity Program, that fosters pro-environmental behavior in threatened Mediterranean ecosystems.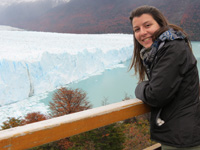 Maria Laura Gelin Spessot
Master's student, School of Natural Resources and Environment, UF; Bachelor's in Biology from the National University of Rio Cuarto, Cordoba, Argentina.
Maria Laura is interested in developing conservation skills to preserve wildlife in her home country, with a particular focus on mammals. As an undergraduate student in Argentina, she conducted research on small mammals, collaborated on a project on black howler monkeys (Alouatta caraya) in the province of Corrientes in northern Argentina, and worked as a volunteer in Nahuel Huapi National Park. For her Master's research, she will work with predator-prey interactions and human-wildlife conflict in a migratory landscape: pumas and smaller cats, guanaco migration, alternative prey, and livestock depredation in La Payunia Reserve of northern Patagonia, Argentina.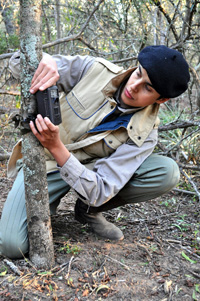 Mauricio Nuñez-Regueiro
Ph.D. candidate, School of Natural Resources and Environment, UF; Master's in Wildlife Ecology and Conservation from the University of Florida; Bachelor's in Biology from the National University of Salta, Argentina.
Mauricio is interested in combining quantitative approaches from the field of landscape ecology with economic tools to better understand how human activities, such as deforestation, affect biodiversity. His long-term goal is promote biodiversity conservation and maintenance of ecosystem services in the context of sustainable economic development of tropical and subtropical regions. He hopes to accomplish this through research and leading conservation-related efforts that affect policy, bridging the gap between decision makers and science, helping build a stronger community of conservation scientists and practitioners, and engaging society in conservation.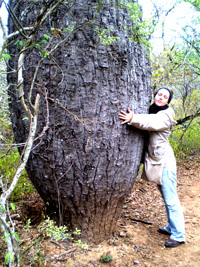 Viviana Rojas Bonzi
Master's in the School of Natural Resources and Environment, UF. Bachelor's in Biology from the National University of Asunción, Paraguay.
Vivi was awarded the Fulbright-Itaipu scholarship from Paraguay for her Master's program at University of Florida. She is interested in how landscape configuration affects the movement of species and the use of genetics as a tool for conservation biology. Her previous work in Paraguay was mainly focused on the Chaco forest in environmental education. She also worked in the Ministry of Environment in Paraguay. This experience helped her realize the importance of collaborative networks for conservation and monitoring efforts. For her master's research, she is exploring the genetic effects of landscape configuration on different functional groups of small-mammal communities in a mosaic of agricultural and conservation lands in the African savannah. With this, she aims to gain more experience in the field of landscape genetics and eventually help develop this field in Paraguay through her research. She is also a member of the Paraguayan Association of Herpetology (Asociación Paraguaya de Herpetología-APAH) and the Paraguayan Society of Mastozoology (Sociedad de Mastozoología del Paraguay).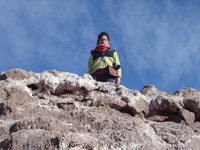 Tania Villaseñor Jorquera
PhD candidate, Department of Geological Sciences, UF; Master's and Bachelor's in Geology from the University of Chile, Chile.
As a geologist, Tania understands that the past is a key to the future. She is interested in the influence of past and present changes in climate on the evolution of sedimentary systems, from sediment production in the mountains to its final deposition in the oceans. Her previous work includes research on the reconstruction of climatic conditions along the northern coast of Chile as well as projects to delineate aquifer recharge areas in the semi-arid region of central Chile. Tania has been active in promoting environmental awareness and education to college students, having spent five years working at the Environmental Network (Red Ambiental) of the University of Chile. She developed and led several field and educational programs at Altos de Lircay National Reserve (Chile) directed at college students, tourists and inhabitants of the area. In 2012, she co-founded the Tanglewood Community Garden (Gainesville, Florida), a project that seeks to promote sustainable food production in an urban setting and build cooperative relations among UF housing residents. For her dissertation work, she is evaluating the relative roles of global versus local sedimentary controls on the formation of continental margin strata during the Pleistocene.
Post-doctoral Associates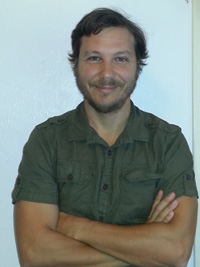 Ignacio Rodriguez-Jorquera
Post-doctoral Associate, Department of Wildlife Ecology and Conservation, UF; PhD from the University of Florida; Master's in Water Resources from the University Austral of Chile; Bachelor's in Veterinary Medicine from the University of Chile, Chile.
From Ignacio's perspective, most of the emerging threats to Earth's biodiversity are related to man-made pollution. As an undergraduate student, he co-founded the Red Ambiental (Environmental Network) de la Universidad de Chile, which he considers his first Environment and Natural Resources School. As a Veterinarian, he worked on wildlife conservation projects on endangered species such as the Darwin's fox (Lycalopex fulvipes). Later he was part of CODEFF NGO (Comite Pro Defensa de la Fauna y Flora) as project coordinator of the Southern River Otter Conservation Program and the Important Birds Areas identification program (Birdlife International), among others. During his early career, he realized that water pollution has a great impact on wildlife conservation and decided to become an eco-toxicologist. During his Master's, he researched the impact of paper mill effluent on fish physiology. As a PhD student, he examined the effects of low levels of persistent chemicals on fish and bird gene expression. He is particularly interested in highlighting the risk pollutants pose to protected areas and in finding new ways to protect nature from contaminants. He is currently a Post-Doctoral Associate in the Department of Wildlife Ecology and Conservation at the University of Florida, working on the Everglades Comprehensive Restoration Plan to predict the impact of mercury pollution on wading birds reproduction. He is a birder and perhaps an ornithologist!