SCCL News Archive
UF Southern Cone alumni instrumental in developing regulations to protect urban wetlands in Chile!
After passage of an urban wetlands law in January 2020, Ignacio Rodríguez (UF SNRE alumus, Soil and Water Sciences Department and Center of Environmental and Human Toxicology) and Marcela Márquez García (UF SNRE alumnus, Wildlife Ecology and Conservation, TCD) were hired, along with other professionals, by Chile's Ministry of Environment to develop guidelines for the law. The interdisciplinary team assisted in the development of the sustainability criteria to implement Chile's new urban wetlands law. These guidelines are essential to implement the law and protect urban wetlands.
Using facilitation and collaboration skills they gained at UF, and have since honed in conservation activities in Chile, Ignacio and Marcela conducted participatory workshops with experts and citizens to validate their proposal. When COVID-19 became an issue, the team adapted and conducted workshops virtually.
Things were on track for acceptance of the proposed guidelines by Chile's ministers, but ran into a roadblock with some government officials. At that point, diverse stakeholders and citizens launched a social media campaign to highlight the importance of urban wetland ecosystems (#QueremosReglamento #WeWantGuidelines) and on 30 July Chile's ministers approved the guidelines.
Both Ignacio and Marcela continue to be active members of UF and TCD's Southern Cone Leadership Initiative with students and alumni working to train conservation leaders and build capacity of local organizations to conserve biodiversity, manage natural resources sustainably, and maintain ecological services that promote human well-being in southern South America.
To learn more about the effort:
Interview with Marcela and Ignacio when the law was postponed:
https://laderasur.com/estapasando/queremosreglamento-alerta-por-el-aplazamiento-del-reglamento-de-la-ley-de-humedales-urbanos/
Interview with Ignacio after the guidelines were approved on 30 July:
https://www.eldesconcierto.cl/2020/07/30/se-aprueba-el-reglamento-para-comenzar-a-aplicar-plenamente-la-ley-de-humedales-urbanos/
https://www.futuro360.com/desafiotierra/entrevista-ignacio-rodriguez-ley-de-humedales-urbanos_20200731/?s=09
Minister of Environment's professional celebrating approval of guidelines:
https://twitter.com/Ame_Jaramillo/status/1288839565181149185?s=20
UF Southern Cone alumnus Eduardo Silva-Rodriguez invited to provide technical expertise to the House of Representatives of Chile regarding the impact of dogs on wildlife and livestock in Chile.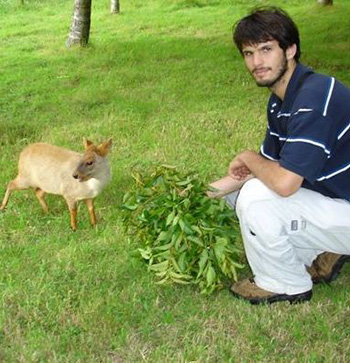 Eduardo was invited to the Agriculture, Forestry and Rural Development Committee of the House of Representatives in Santiago, Chile to provide technical advice regarding the impacts of dogs on wildlife and livestock in Chile. His research provides an important foundation for a new bill that declares feral dogs as invasive exotic species. Eduardo explained that dogs are an important threat to large mammal,s as well as smaller species. One of the most critical cases is the small native deer (pudú, Pudu puda, see photograph of Eduardo and pudú below). This species frequently arrives at rescue centers after dog attacks. Other larger species such as guanaco (Lama guanicoe) and huemul (Hippocamelus bisulcus) also are impacted by dogs. One of the reasons for attacks is that the Responsible Dog Ownership Law, which is already in place, is not being followed by dog owners. Eduardo proposed new strategies focused on dog ownership to overcome the serious problem of the impact of dogs on wildlife in Chile.
UF professor Joel Correia visited Salta, Argentina, and traveled with UF Southern Cone alumnus and PhD student to the Argentine Chaco Forest
Joel Correia, Assistant Professor of Latin American Studies at University of Florida, has worked in the Paraguayan Chaco Forest since 2006 on indigenous rights, socio-environmental justice, and agriculture expansion. Last summer he traveled to Salta, Argentina, to strengthen research collaborations between Paraguay and Argentina and, as part of this effort, he visited the Argentine Chaco forest with UF Southern Cone alumnus Mauricio Nunez-Regueiro and PhD Candidate Cristina Nunez-Godoy. Mauricio lives in Salta and he is a researcher at the National Scientific and Technical Research Council of Argentina working on deforestation and biodiversity challenges in the Argentine Chaco Forest. Cristina is conducting fieldwork for her PhD in Salta, which includes surveying forest owners to determine their preferences for different types of conservation programs. During the trip, they visited indigenous communities and small forest owners in the Chaco.
| | |
| --- | --- |
SCCL alumnus, Alejandro Pietrek, has recently initiated research on the effects of climate change on birds of the high Andean lakes of northern Argentina.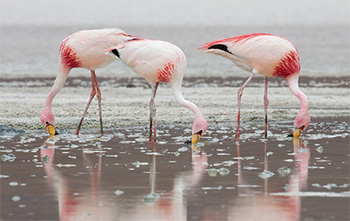 Puna flamingo (Photo from Wiki commons)
These high Andean lakes are critical habitat for species such as the puna flamingo (Phoenicoparrus jamesi), the horned coot (Fulica cornuta), and the giant coot (Fulica gigantea).
Graduate student Clara Mosso awarded a National Geographic Explore's Grant for master's research in Tierra del Fuego, Argentina.
With this grant, Clara will travel to Ushuaia in Tierra del Fuego to study effects of urban expansion on provision of ecosystem services in Patagonian forest and to assess perceptions of planners and technicians involved in implementation of the National Forestry Law of Argentina, which aims to conserve native forests. She expects to contribute to improvement of native forest conservation and land use planning policies in this region, including both ecosystem and human dimensions. Read more about Clara and her project on the National Geographic Explorer's website.
UF Southern Cone alumnus Tania Villaseñor awarded the prestigious L'Oreal for Women in Science Fellowship.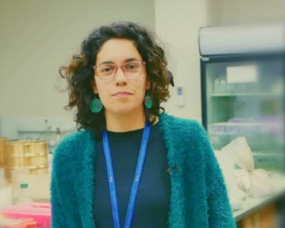 Tania is a postdoctoral researcher in the Department of Geology of the University of Chile in Santiago, Chile, where she studies the influence of glacial cycles on transfer of sediments from the Andes to the Pacific Ocean. This work supports global efforts to understand the response of glaciers and terrestrial and marine ecosystems to climate change.
UF Alumni Mauricio Nuñez-Regueiro and Alejandro Pietrek obtain research positions with the National Scientific and Research Council (CONICET) of Argentina.
| | |
| --- | --- |
| Mauricio | Alejandro |
Mauricio and Alejandro have been awarded career research positions in the Instituto de Bio y Geociencias (Institute of Bio and Geosciences, IBIGEO), National Scientific and Technical Research Council (CONICET), National University of Salta, Argentina. Mauricio's research aims to develop models for sustainable land use and biodiversity conservation the Chaco region of northern Argentina. As a result of agricultural expansion, this region has one of the highest deforestation rates in the world. Alejandro is studying the impacts of climate change on bird populations in the high Andes of Argentina. Many of these species nest in Andean lakes that are threatened by climate change and anthropogenic factors such as mining. Before joining CONICET, Alejandro conducted research on problems related to North American beavers introduced to forests and wetlands in Tierra del Fuego Argentina (See link for more information: https://phys.org/news/2015-12-good-invasive-beavers-patagonia.html)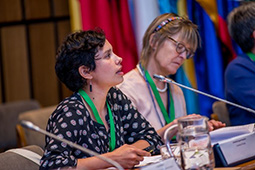 After 3 workshops developed in Gainesville (Florida, USA), Quito (Ecuador) and Puerto Iguazú (Argentina), the organizing team of the workshops "Women in Environmental Sciences and Sustainability: Opportunities and Challenges in Latin America" was invited to participate in a round table at the 12th Gender Summit (and the first in Latin America) on Science Technology and Innovation, organized by the National Commission of Science and Technology of Chile (CONICYT)in Santiago, Chile on December 2017.
The conference was held in the ECLAC offices in Santiago, where Antonieta Eguren (left in photograph above), representing the Southern Cone Conservation Leadership Initiative of the TCD program of the University of Florida, presented results from the workshops with an experiential vision of the challenges faced by women who work in environmental sciences, opportunities and strategies for facing these challenges. Accompanying this round table were also the speakers: Sally Bunning, Senior Agricultural, Land and Water Systems Officer of the FAO (Office for Latin America and the Caribbean), Laura Gallardo, of the Center for Climate Science and Resilience (Chile), and Eduardo Bianchi, IANAS - Food Security (Argentina).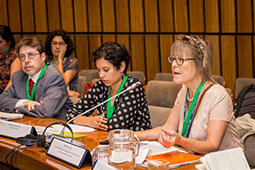 Some of the topics discussed were the importance of the integration of women and their perspectives and experiences regarding environmental issues in order to cover more comprehensive solutions to complex problems such as climate change. Likewise, the need to change paradigms towards new life styles aimed at greater equity between women and men was addressed. The roundtable and its presentations were broadcast by streaming.
For more images, visit the following webpage: https://www.flickr.com/photos/comunicacionesconicyt/24157081947/in/album-72157661549451097/
SCCL alumnus brings ecotoxicology to the forefront of wildlife conservation in the Southern Cone
Ignacio Rodriguez Jorquera, SCCL alumnus and member of the Southern Cone Working Group, helped lead the course "Nuevas Tecnologías Aplicadas a estudios ecotoxicológicos en animals silvestres" (New technologies applied to ecotoxicological studies in wildlife), held at the Veterinarian School of Universidad Nacional del Litoral de Santa Fe, Argentina. Collaborative teaching is one of the activities of members of the Southern Cone Working Group (a Southern Cone-based group initiated with SCCL) aimed at generating South-South working collaborations to improve wildlife conservation in the Southern Cone. Moreover, because ecotoxicology and effects of pollutants on wildlife often are not considered in traditional wildlife conservation in Latin America, Ignacio is leading incorporation of these problems in conservation agendas and research programs. This work included participation in the 2015 Symposium " Pollution in Latin American Protected Areas: Challenges and Opportunities in Protecting Biodiversity and Ecosystems" held in Buenos Aires in the Latin-American SETAC (Society of Environmental Toxicology and Chemistry) congress leading to the 2016 publication of the paper "Latin American Protected Areas: Protected from Chemical Pollution?" (IEAM 2016).
Southern cone students and alumni lead workshops for women in environmental sciences and sustainability in Ecuador and Argentina
Cristina Nuñez-Godoy and Marcela Marquez, with the support of the Tropical Conservation and Development Program (TCD), organized and led the 2nd and 3rd workshops in a series entitled "Women Scholars in Environmental Sciences and Sustainability: Opportunities and Challenges in Latin America" in Quito, Ecuador (August 7th) and Puerto Iguazú, Argentina (September 17th), respectively. SCCL alumni, Antonieta Eugren Ibacache and Viviana Rojas Bonzi, also helped plan and facilitate the workshops. Women from across Latin America participated, enthusiastically sharing their experiences and ideas regarding gender-related issues faced by women working in sustainability and environmental sciences in Latin America. The workshops preceded the XII International Congress on Wildlife Management in Latin America held in Ecuador, and the VI Binational Meeting of Ecology of Argentina and Chile, held in Argentina.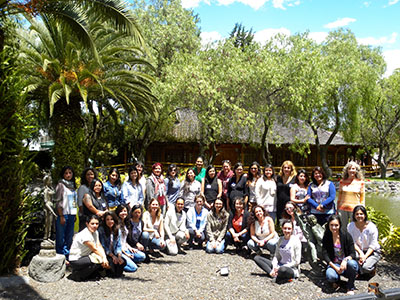 Workshop participants in Ecuador.
Addressing the gap between science and conservation practice in the Southern Cone
Southern Cone graduate students Felipe Hernández, Maria Laura Gelin, Cristina Nuñez-Godoy and Claudio Moraga, and SCCL alumni Mauricio Nuñez-Regueiro and Viviana Rojas organized and led a roundtable discussion "Challenges and solutions to connect science and practice for the conservation of the Southern Cone of South America" at the VI Binational Meeting of Ecology of Argentina and Chile in September 2016. The roundtable gathered more than 150 participants including scientists, government agency personnel, conservation practitioners and students who identified challenges and solutions to overcome the science-practice gap both at local and regional levels.