Wildlife Ecology and Conservation department
Wildlife Ecology and Conservation department
Coop Faculty
Abby N. Powell


Unit Leader, Courtesy Professor, Department of Wildlife Ecology and Conservation
Abby Powell Faculty Page
Dr. Powell's research focuses on avian ecology and conservation, and she has a background in endangered and threatened species and coastal wetland ecology. Before moving to the Florida Cooperative Fish and Wildlife Research Unit, Dr. Powell spent 15 years in Alaska working on issues ranging from impacts of environmental change on shorebirds and seaducks to impacts of expanding populations of gulls and ravens on species of conservation concern. Her research interests include migratory connectivity and full life cycle biology of birds.
Raymond R. Carthy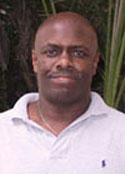 Assistant Unit Leader, Courtesy Assistant Professor, Department of Wildlife Ecology and Conservation and College of Natural Resources and the Environment
Raymond Carthy Faculty Page
Dr. Carthy's research centers on ecology of endangered species. His research interests involve reproductive ecology and physiology of coastal and wetland herpetofauna, with current focus on marine and freshwater turtles. He is also involved in research on threatened upland species and in conservation management oriented studies.