WEC Alumni in the World - Chuck Knapp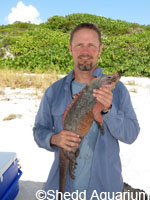 Chuck Knapp (WEC MS 1999, WEC PhD 2005) comes from the Chicago area and in high school began volunteering at the renowned Shedd Aquarium on the city's lakefront. He took part in the aquarium's high school marine biology program, where he had the opportunity to spend a week in the Florida Keys. That is when he "fell in love with marine life." Today Dr. Knapp is the Shedd's Vice President of Conservation and Research.
After receiving his bachelor's degree in Zoology from Southern Illinois University, Chuck decided to pursue his master's at University of Florida. At UF, Chuck studied the efficacy of translocation of rock iguanas in the Exuma Islands in the Bahamas as a conservation strategy. For his PhD research (also at UF), Chuck studied rock iguanas on Andros Island, which led to the expansion of a park for these endangered reptiles.
After graduating from UF, Dr. Knapp held a conservation research postdoctoral fellowship in the Institute for Conservation Research at the San Diego Zoo. He returned to his home state in 2010 to again join Shedd Aquarium in a full-time capacity. Every year since 1995, Chuck has been leading citizen science trips aboard Shedd's research vessel to study iguanas in the Bahamas. According to sheddaquarium.org, as part of this expedition "you'll get hands-on experience collecting data on endangered Bahamian rock iguanas as you travel to remote islands and encounter exciting ecosystems aboard Shedd's research vessel." The citizen science program is one of many that the Shedd utilizes to advance conservation efforts and educate the public.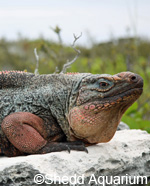 "Our strength is the opportunity to educate a broader audience using the direct link with our research programs and the more than two million guests we receive each year," says Chuck. He describes the many different ways in which the aquarium is able share information - through educating school groups, attending festivals, blogging, and partnering with universities. The Shedd Aquarium even offers a Marine and Island Ecology class to a college consortium in the region, which includes 15 colleges and universities in the Chicago area. The class makes a trip to the Exuma Islands every year.
"My experience with UF has shaped me," says Chuck, who says he is "very grateful" for his experience with WEC. He recalls his graduate education including human dimensions and conflict resolution classes, which he says gave him a skill set that not everyone in the wildlife profession necessarily has. He describes his graduate education at UF as a "holistic approach to ecology." Dr. Knapp was advised by Dr. Kenneth Dodd.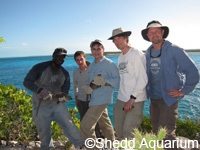 Dr. Dodd says he is proud that Chuck was his graduate student. "Chuck has three great qualities that have made him successful: he is intelligent (an attribute that is much more important than mastering volumes of facts); he loves working with people; he is passionate about his work and those with whom he interacts. Working in remote areas, he had to be resourceful, plan carefully, be confident, know his way around boats and the changeability of Caribbean weather, and work with local people. Chuck was exceptional at these tasks, and these qualities have extended his influence in conservation far beyond a local sphere."
Check out the Shedd Aquarium's website: http://www.sheddaquarium.org/.