Wildlife Ecology and Conservation department
Wildlife Ecology and Conservation department
AVIAN  BEHAVIORAL  ECOLOGY  &  CONSERVATION
Kathryn E. Sieving (Katie)
Department of Wildlife Ecology & Conservation
University of Florida, Gainesville
B.Sc. Wildlife, Fish, & Conservation Biology, University of California Davis
Ph.D. Ecology, Ethology, & Evolution, University of Illinois Urbana-Champaign


Publications Google Citations
The Sieving Lab
My research expertise includes conserving forest biodiversity, especially birds, in disturbed, fragmented, urbanized, and otherwise human-dominated landscapes in historically forested biomes. Conceptually, my lab's work is rooted in behavioral, community, and landscape ecology.
I take on graduate training enthusiastically and live by the motto 'effective conservation science is via rigorous research design'. Ecosystems are complex and conservation is emotionally pressing. Therefore, conservation scientists must work and learn efficiently while maintaining scientific standards at the highest level. I teach a foundational graduate course in scientific logic and conceptual framing (ecological science), research organization, and competitive proposal writing (WIS 5496 Research Design in Widlife Ecology and Conservation).
My gradaute students' interests take the lab in their directions. My philosophy of mentoring - 'it's your degree and future - take the reins!'
Sieving Lab News-Wire – Latest Lab Learnings and Doings
Flocking propensity by satellites, but not core members of mixed-species flocks, increases when individuals experience energetic deficits in a poor-quality foraging habitat.
PLoS One https://doi.org/10.1371/journal.pone.0209680
Communication as a fundamental part of Machiavellian Intelligence.
J Comparative Psychology http://dx.doi.org/10.1037/com0000138
The conservation implications of mixed-species flocking in birds, a globally-distributed species interaction network.
Biological Conservation https://doi.org/10.1016/j.biocon.2018.06.004
Changing Wild Meat Consumption: An Experiment in the Central Amazon, Brazil.
Conservation Letters https://doi.org/10.1111/conl.12391
Sieving Lab - Anchor Project Areas
Animal Information Landscapes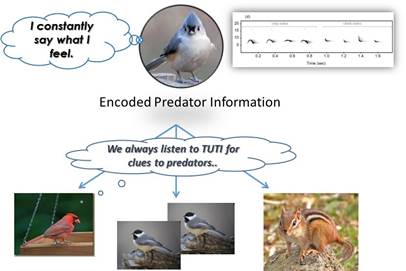 When the titmouse speaks, everybody listens! We've discovered that the Eastern Tufted Titmouse encodes a high diversity of reliable and distinctive information about predation threats they perceive in their alarm calls and other vocalizations (including their chip calls). Many other species not only know the titmouse code, they change their behaviors in accordance with the degree of threat conveyed in those calls. We are exploring many aspects of parid 'info-scapes'. See Publications list.
This work has been funded by National Science Foundation; University of Florida; Animal Behavior Society; others.
Vocal Complexity in Family Paridae
Causes and consequences of the extraordinary vocal complexity of chickadees and titmice. With Todd Freeberg (lead PI: UT-Knoxville) and Jeff Lucas (Purdue) we are testing three major hypotheses for the causes (social, habitat, and predation risk complexity) of parid vocal complexity.
Behavioral Landscape Ecology of Forest Animals
Principles of Behavioral Landscape Ecology are fundamental to understanding the distribution and viability of wildlife populations. Behavioral mechanisms help determine spatial distributions of animals and their responses to landscape change (short and long term) and disturbance. We use behavioral ecology to understand animal movements, activities, and distribution in disturbed landscapes. We have found that landscape connectivity is defined by a species' behavioral perceptions of risks and rewards in spatial decision-making, and is greatly influenced by spatial configuration of habitat and also what other species are doing nearby at local and landscape scales. See Publications. Figure is from Cornelius et al. 2017.
This work has been funded by NGS; NSF; USP; Disney; UF; Animal Behavior Soc; Conservation Leadership Program; US Fish & Wildlife Service; others.
The Sieving Lab Today
Leila Kalantari, Post Doc. Machine learning algorithms for bird call fine structure.
Demeng Jiang, PhD. Student of Eben Goodale's (Guangxi U, Nanning, China) visiting 2019. Sensitivity of forest birds to titmouse contact calls.
Sarah Obaid, PhD. Monitoring wetland restoration using bioacoustic metrics.
Pete Monte, MSc. Parid leadership in predator mobbing dynamics – behavioral and acoustic analysis.
Yue Liu, MSc. Effect of construction noise on Eastern Bluebird reproductive biology.
Hannah Cain, BSc. Bluebird nest box director.
Gabriel Gonzalez, BSc. Research volunteer, Prairie Creek Banding assistant.
Isabella Plummer, BSc. Research volunteer. Nest site selection by urban Eastern bluebirds.
Camya Robinson, BSc. Research volunteer.
Sylvia Van Boskirk, BSc. Research volunteer.
Study Species of the Sieving lab
For Prospective Graduate Students & Post Docs:
To be considered for a position in my lab, please send …
A clear, brief email of career goals and research interests that relate to lab interests.
A current curriculum vita indicating relevant coursework, GPA, experience, publications, and GRE scores.
Please read over websites pertaining to the graduate programs in WEC and SNRE at UF, and indicate which one is best for you.
Please explore the following links and address funding issues in your inquiry.
And please read everything on this page!!!
Courses Developed & Taught
Current courses
WIS 4934 Wildlife Behavior and Conservation - Fall
WIS 5496 Research Design in Wildlife Ecology & Conservation - Fall
WIS 4547c Avian Field Research (pictured) – Spring
Video of students who learned excellent mist-netting technique in 2019! (link)
Past courses
WIS 4/6934 Ancient Bird Language for Modern Naturalists (field course in animal behavior)
WIS 6934 Networking Women in Sustainability Science (online course)
WIS 3403c Perspectives in Wildlife Ecology and Conservation
WIS 4934-Honors / Becoming Ecological Natives in the Anthropocene
Research Design in Conservation Biology – 1 week short course

Co-taught with Lyn Branch in Acre, Brazil;
with Nilmini Jayasena and Fangyuan Hua in Kandy, Sri Lanka

Design of Social-Ecological Research Studies – 1 week short course

Co-taught w/ Mickie Swisher (UF) in Argentina;
and for OTS in Costa Rica.

Natural Resource Conservation; Wildlife Ecology and Management; Ornithology; Conservation Biology
Biodiversity Conservation: Global Perspectives; Field Ecology; Attaining a Sustainable Society; Resilience in Living Systems
Sieving Lab Alums (& current activities).
Post-Docs
Dr. Leila Kalantari, Post Doc (2018-9). Machine learning algorithms applied to acoustic data retrieval (UF Informatics Fellow).
Dr. Rajeev Pillay, Post Doc (Summer 2016). Regional variation in vocal complexity in Paridae (NSF).
Dr. Dara Wald, Post Doc (Spring 2013). Taught "Networking Women in Sustainability" (NSF). Asst. Professor, Iowa State U.
Dr. Thomas A. Contreras, Post Doc (2002-2006). Ecology of winter flocks (USDA, NSF). Professor, Wash-Jefferson U.
Dr. Kevina Vulinec, Post Doc (2000-2002). Fire ecology and restoration (USDA). Professor, Delaware State University.
Dr. Joan Morrison, Post Doc (1999). Ecology of nest predators (Ford Foundation.) Professor (retired) Trinity College.
Ph.D.
Dr. Kristen Malone, PhD. 2019. Avian and predator community response to large-scale hardwood reduction.
Dr. Rosalyn Johnson, Ph.D. 2016. Native bee communities and pollen foraging in organic farm-scapes. CEO, YardBio.org.
Dr. Willandia Chaves-Didier, Ph.D. 2016. Wildlife trade, hunting, and game consumption in the Amazon. Post doc at Princeton.
Dr. Jackson Frechette, Ph.D. 2014. Apes, seed dispersal, tropical tree regeneration. Flora and Fauna International, Cambodia.
Dr. Fangyuan Hua, Ph.D. 2013. Forest degradation and bird conservation. Post-docs: (1) Princeton, (2) Cambridge.
Dr. Eduardo Silva, Ph.D. 2012. Chilean wildlife conflicts w/ domestic carnivores. Faculty Universidad Austral, Valdivia, Chile.
Dr. Iván A. Díaz, Ph.D. 2008. Epiphyte–bird interactions in Chilean rainforest. Faculty Universidad Austral, Valdivia Chile.
Dr. Matthew J. Reetz, Ph.D. 2008. Invasion of brown-headed cowbirds in Florida. ED for Madison WI Audubon Society.
Dr. Traci D. Castellón, Ph.D. 2005. Avian landscape ecology and sustainable patch networks. Biologist, FFWCC.
Dr. John J. Kappes, Ph.D. 2004. Heterospecific use of red-cockaded woodpecker cavities. Independent consultant.
Dr. Gregory A. Jones, Ph.D. 2003. Integrating bird conservation and farming. Faculty Santa Fe College, Gainesville, Florida.
M.Sc.
Bobbi Carpenter, MSc. 2019. Predicting nesting stage in wild turkey hens using spatial signature.
Jin Bai, MSc. 2019. Factors affecting avian aggression across the urban-wildland interface.
Mary Mack Gray. MSc. 2019. Personality variation in brown-headed nuthatch populations.
Harrison Jones, M.Sc. 2016. Traits and factors predicting reliance on socially derived anti-predator information in winter flocking species. Starting UF PhD Biology Fall 2016.
Aaron Grade, MSc. 2015. Soundscape ecology: avian information restriction caused by road noise. Starting a PhD in Fall 2015 at U Mass, Amherst.
Kaan Kerman, MSc. 2015. Behavioral syndromes in an invasive species, Monk parakeet. Starting a PhD in Fall 2015 at Virginia Tech, Blacksburg.
Amanda Abel, MSc. 2014. Florida scrub jay landscape ecology; patch occupancy and barriers to movement in Ocala Nat'l Forest. GIS Analyst, Quest Ecology, FL.
Elizabeth White, MSc. 2014. Florida scrub jay anti-predator behavior. Currently PhD student in SNRE/WEC.
Ping Huang, M.Sc. 2010. Effects of social information on bird exploratory behavior. Doctoral student in Biology, U Florida, with Collette St. Mary.
Willandia Chaves-Didier, M.Sc. 2009. Wildlife and logging in Acre, Brasil.
John J. DeLuca, M.Sc. 2008. Are farms ecological traps for Eastern Bluebirds? USDA Forest Service.
Stacia A. Hetrick, M.Sc. 2006. Vocal signaling of risk by tufted titmice. With FFWCC; private consulting.
Michael P. Milleson, M.Sc. 2005. Modeling mechanisms of arrested succession in south-temperate rainforest. Wildlife Disease Biologist at Florida Field Station -- Wildlife Research (USDA), Gainesville, FL. (Lab page).
Leonard Santisteban, M.Sc. 2001. Use of sensory cues by selected avian and mammalian nest predators. PhD, New Mexico State University, 2009.
Matthew Reetz, M.Sc. 2000. The effects of predator identity and capability on nest defense by songbirds. (See above).
Heather McPherson, M.Sc. 1999. Distributional constraints of the ochre-flanked tapaculo, Eugralla paradoxa. Biologist, Washington State Department of Natural Resources.
Diana Swan, M.Sc. 1999. Nesting ecology of three woodpecker species in north Florida longleaf pine forest. Biologist, Georgia Department of Natural Resources.
Brian D. C. Williams. M.Sc. 1998. Distribution, habitat associations, and conservation of CA purple martins. Consultant: Williams Wildland Consulting, and adjunct Faculty with Sierra College, California.
Gerard J. McChesney. M.Sc. 1997. Breeding biology of the Brandt's cormorant on San Nicolas Island, CA. Seabird biologist with USFWS in California.
B.Sc.
Zach Holmes, BSc. G.R.E.B.E. president and research volunteer.
Izzy Garcia, BSc. G.R.E.B.E. officer and research volunteer.
Jennifer Franklin, BSc. Research volunteer.
Odile Maurelli, BSc. Grad Cornell U, Research volunteer.
Jonathan Argov, BSc. Research Technician. Avian acoustics.
Brittany Panos, BSc. Bioacoustics volunteer. Roving field technician.
Adriana Betancourt, BSc. Sparrow nest predation. White Oak Intern, North Florida.
Tannyr Lamica, BSc. Honors 2017. Interactive playback reveals aggressive escalation in vocalizations of tufted titmouse.
Lauren Diaz, BSc. In WEC, former NSF-funded research technician. MSc program at Clemson.
Jason Lacson, B.Sc. Honors 2015. Design of a camera trap for owls and other raptors using passerine distress calls. Working as a technician.
Jordon Davis, B.Sc. 2015. Distance, noise, and habitat complexity effects on spectral tag detection efficiency for parid vocalizations. Working as a technician.
Julie Perreau, BSc Honors 2014. Bluebird reproductive responses to different nest boxes and temperature. Getting her MSc in Europe.
Amanda Powell, BSc Honors. 2013. Bluebird reproductive responses to perceived predation risk. Working lots of great internships!
Michael Bainum, BSc. 2013. Feral cat camera trapping in urban environs. Working lots of interesting jobs. Published his thesis!
Jessica Burnett, B.Sc. 2012. Testing whether actual and perceived landscapes of risk align. Completed MSc in WEC. Starting PhD in Oklahoma, Fall 2015.
Kelly Frye, B.Sc. Highest Honors. 2012. Social interactions and homing behavior. Now in UF Vet School.
Chelsea Heatherington, B.Sc. Highest Honors. 2011. Homing behavior in forest birds. Recipient NSF GF, now in grad school @ U Texas Austin
Derrick Thrasher, B.Sc. Honors. 2011. Painted bunting habitat use in Florida. Recipient NSF GF, now in PhD program @ Cornell.
Chloe Wright, B.Sc. Honors. 2010. Predation risk and bluebird reproductive behavior. Started PhD program in US.
Montana Atwater, B.Sc., Highest Honors. 2008. University Scholar. Native Dragonflies as Ag Pest-Consumers. MSc in UF Entomology; Now PhD abroad..
Scarlett Howell, B. Sc. Highest Honors. 2006. Functionally referential signals in birds. USFWS Biologist, San Diego, California.
Elizabeth Farley, B. Sc. Highest Honors. 2004. University Scholar. Characterization of winter bird flocks. MSc, University of Texas at Tyler, 2009. Doing PhD Texas Tech.
John Davis, B.Sc. Highest Honors. 2002. University Scholar. Defense of roosting cavities by RCWs. Doctoral Program at UGA Ecology; NSF Graduate Fellow. Post doc at Idaho State Stream Ecology Center. Now works for the feds in Atlanta.
Justin Gude, B.Sc. Highest Honors. 2000. Bird-assisted restoration of south-temperate rainforest. M.Sc. Montana State University (NSF Graduate Fellow); Biologist with State of Montana.
Kimberly L. Maute, B.Sc. Honors. 1999. Forest boundary crossing by mobbing passerines. Finished dissertation in Australia.
John P. Justus, B.Sc. Honors. 1998. Nest predation pressures along inherent oak-pine forest boundaries. Attended University of Colorado School of Law on a Merit Scholarship. Associate, Buchanan & Sperling, Colorado, USA.
Gary M. Langham. B.Sc. Honors. 1995. Pishing and Parids: a holarctic scolding homology. VP and Chief Scientist for National Audubon Society, Washington DC. President of Neotropical Grassland Conservancy. http://www.conservegrassland.org/ngc_staff.htm.