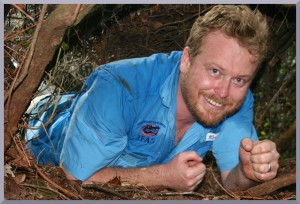 James D Austin
Professor, Wildlife and Conservation Genetics
Graduate Program Committee Coordinator
austinj@ufl.edu
352-846-0646
2322 Mowry Road
Building 116
OUR RESEARCH
Two broad themes categorize research in the Austin lab. One is the study of population and species-level processes. This theme includes methods from phylogenetics to molecular and demographic studies on the processes shaping diversity. Another central theme is incorporating sound ecological and evolutionary biology in fulfilling the needs of wildlife managers, agencies, and conservation organizations. These two avenues (theory and practice) are often difficult to reconcile as threatened species, due to their rarity, are often not ideal species for ecological or evolutionary study.
CURRENT MEMBERS
Kyra Ann English Kyra joined the lab as an undergraduate researcher in 2020 and has been active in numerous projects. In 2021-2022 she conducted an independent research project focused on genome-wide SNP population genetics of Perdido Key beach mice. For her M.S., she is working on the Florida panther diet and microbiome diversity.
Adele Petrias Adele was an undergraduate researcher with us before completing her DVM at Cornell in 2023. She is joining our lab for her Ph.D. in the Fall of 2023, where I will co-advise her with Dr. Samantha Wisely.
Kseniya Chumachenko Kseniya joined our lab as a Biological Scientist in 2022. She operates the shared genetics lab (Wisely-Austin), providing training and technical assistance on various projects.
Megan Quinn Megan is an undergraduate research assistant focusing on a project involving a genomic analysis of flatwood salamanders.
PUBLICATIONS
See the google scholars page