Environmentally Sound Pest Management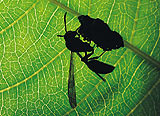 Integrated Pest Management (IPM) is an approach to managing insects, mites, pathogens, nematodes, weeds, and other pests in which multiple practices are implemented throughout the entire production period of the crop. IPM can be viewed as a series of steps that is repeated or modified as needed: Prevention/avoidance, Monitoring, Decision making, Intervention, Evaluation.
IPM includes judicious use of pesticides in careful coordination with other pest management practices. Restricted labeling of pesticides, pest resistance, safety to nursery personnel, and environmental issues are all concerns to nursery managers. Thus, nursery managers should seek methods of pest control other than scheduled, preventative, nursery-wide pesticide applications.
Integrated Pest Management - IFAS Fact Sheets
A Guide to Environmentally Friendly Landscaping: Florida Yards and Neighborhoods Handbook