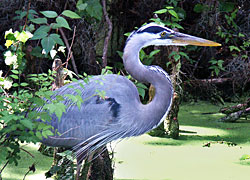 Wildlife in Harmony
Over 1,200 species of wildlife live in Florida, making it the 3rd most diverse state in the nation. Harmony is home to all kinds of wildlife—mammals, birds, fish, reptiles, amphibians, and insects! The abundant natural areas provide habitat for a number of wildlife species. Explore this section to learn more about local wildlife and what you can do to live with and enjoy it.
Find rare species in Osceola County
Residents Monitoring Wildlife in Harmony
Harmony has several citizen science projects where volunteers monitor wildlife populations in and around Harmony. Such monitoring activities not only help people to explore their environment but give important feedback about how wildlife populations change from year to year. In December, volunteers conduct an annual Christmas Bird Count and they record birds along several transects within Harmony. You can view the birds that have been recorded by going to the Birds in Harmony link. Several residents also conduct a Spring Bird Nesting Survey; take water quality samples in Buck and Cat lakes as part of the Florida Lakewatch Program; and both residents and high school classes survey Gopher Tortoise activity at the Harmony gopher tortoise preserve.
Citizen science projects are important because they provide important data to scientists and managers about the health of the environment. Wildlife data collected by citizens are often used to explore trends in wildlife populations and help determine whether populations are increasing, decreasing, or staying the same. Such trends can help scientists to determine the biological integrity of local habitats and problems with certain wildlife species. A good example of this are citizen projects associated with the Cornell Lab of Ornithology.
If interested in any of Harmony's projects, which includes the Christmas Bird Count, Spring Bird Nesting Survey, or the Gopher Tortoise Survey, please contact folks at Harmony Conservation Cafe