Wildlife Ecology and Conservation
The mission of the Department of Wildlife Ecology and Conservation is to foster education, expand knowledge, and reward scholarship, using multi-disciplinary approaches, for the purpose of understanding, managing, and conserving biological resources. The primary goal of our teaching, research, and extension programs is to develop and communicate the knowledge necessary for enhancing the conservation and management of wildlife and their habitats for the greatest aesthetic, ecological, economic, and recreational values.
---
WEC News
Doris Duke Conservation Scholars Program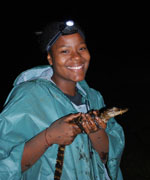 WEC is pleased to announce its participation in the Doris Duke Conservation Scholars Program. This program will provide undergraduate students with training and mentored research activities in conservation biology and other disciplines relevant to land, water and wildlife conservation. The program is seeking students who not only have a budding academic interest in conservation, but are also committed to increasing the diversity of students and professionals in the conservation field. Students accepted into the program will engage in two summers of paid research and agency internships, work alongside conservation researchers and professionals in outdoors-based research, attend workshops and conferences, and build a network of professional contacts and friendships that will last a lifetime.
If you are a current Sophomore interested in the environment, diversity, conservation, and research, please apply! Applications will be available December 1st and more information is available at the program website: http://programs.ifas.ufl.edu/ddcsp or by emailing ddcsp@ufl.edu.
Welcome to Our New Chair, Dr. Eric C. Hellgren
Eric Hellgren, a zoologist best known for his work with black bears, has been named chairman of the University of Florida's wildlife ecology and conservation department, said Jack Payne, UF senior vice president for agriculture and natural resources.
He spent the last eight years as director of the Cooperative Wildlife Research Laboratory at Southern Illinois University."Dr. Hellgren is well-respected in his field, and I'm confident he'll be able to keep the department at the cutting edge of wildlife ecology and conservation as well as bolster it for the future," Payne said.
UF's department has about 30 faculty members, eight postdoctoral associates, and nearly 90 graduate students.
Hellgren said the UF Wildlife Ecology and Conservation faculty is already known for its strength and diversity. He said he hopes to continue that trend through faculty hiring and retention, maintaining an always-modern curriculum, increasing endowments and solving logistical issues, such as the need for office space.
The presence of the Florida Cooperative Fish and Wildlife Research Unit on the UF campus is key, he said, and the department has an enviable mix of international conservation work coupled with widely recognized work on Florida wildlife issues.
Hellgren has published more than 125 peer-reviewed publications and numerous book chapters. He holds a bachelor's degree in fishery and wildlife biology from Colorado State University, a master's in wildlife science from Texas A&M University and a doctorate in wildlife science from Virginia Tech.
---
Have an injured or abandoned animal?
Please read the important information on our Extension page for questions and answers on this topic.